When resigning, you have to face many things, like feeling you try to work at which you don't like anymore. However, not by that reason you dismiss all everything. You should relay good impression to old company before resign! It's helpful to you very much !
See more: How to propose high salary to recruiter
How to repay good impression when resigning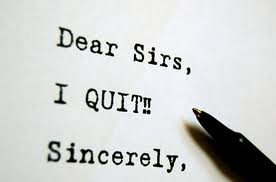 Honesty in resign reason:
Your leave application has to be clearly-performed all of reasons which make you resign present job honestly and satisfyingly. Although you found new job and working environment more lambently with better salary or get off unacceptable Manager. Let you write leave form honestly. Many people trend to exaggerate many dishonest things by themselves. If you lied, you would make difficulties in yourself. Your Manager is enough witty to detect your any dishonesty.
List all jobs:
Temporarily forget Job Descriptions which seldom perform practical jobs of any individual everyday. Thus, let you behave well with Manager and colleagues by clearly listing all jobs which you have been responsible for, with oriented details method to perform those. If possible, you can suggest your colleague should do your jobs when being empty this position. Your colleague is certainly touchy when receiving these detail instructions, at the same time, also high-appreciated your ability because you worked very much in past time.
Help new employee clearly-captured the job:
Recruiter usually requests new employee to inform at least 1 month before resign. However, major in enterprises also high-appreciated your staying longer time, to help new member get accustomed to new job.
Maybe new recruiter solicitous to your accessing new job soon. Or you need to take a rest within 1 week before begin new job. However, you should take much time in the most possibly, to your replacing person or colleague, support them fluently-working. If you can do that, your Manager will be thankful you very much. On the other hand, you also send essential message that you expect your Manager and colleague also successfully.
Friendly with Human Resource Department:
You can be able to find out some information related to bonus, salary in the last working month, with unemployment benefits. However, you shouldn't expect Human Resource Department meet your requirement immediately. You should actively research company's policy and take little time to be received their response. This is one of the busiest departments because they must get efficiency working in highest level and strict deadline with limited employees.
Send all best wishes to everyone:
Let you take much time to say goodbye to your colleagues. Shake hands with smile and send thank to everyone, special to your direct Manager. Perform respect to their support for you in during working time. You should keep contacting to your old colleagues because they can help you very much in individual development and your career process in future. Please remember that the key point which decides whether or not you leave with a good impression depending on your politeness, courteous attitude.
Cập nhật lúc 21:02 – 24/03/2018